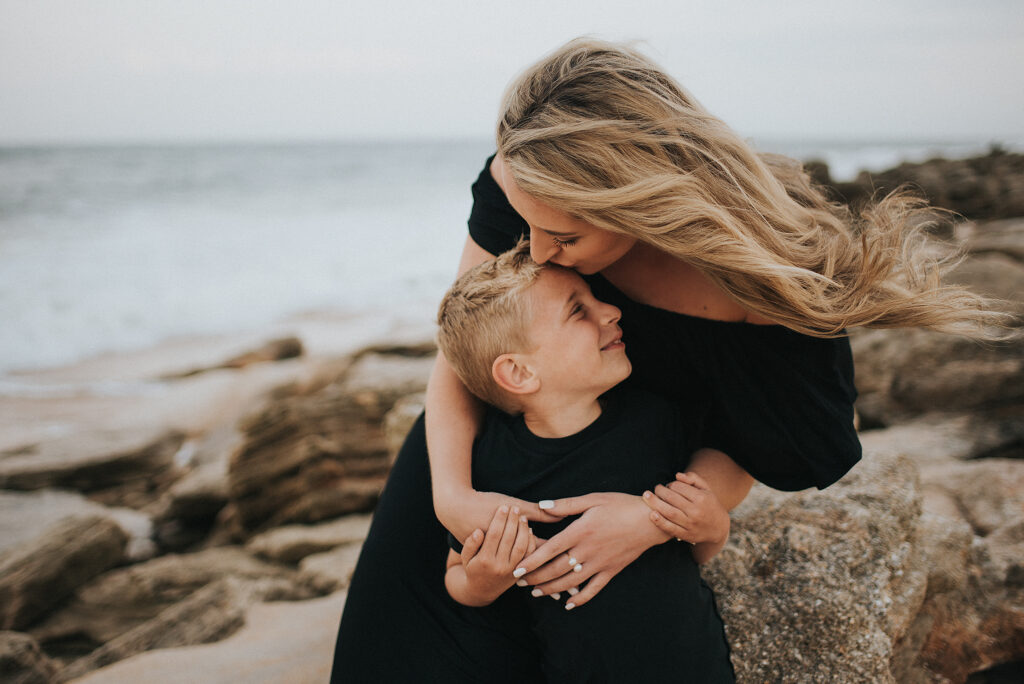 P and his mom have SUCH a close relationship and it is SO sweet to witness. I always love photographing this little family. Our recent adventure out in the Flagler Beach area did not disappoint!
Oh, Florida. You have lovely beaches – mostly – but your weather. We really need to have a chat.
McCall and I put this shoot together over the course of probably 2 weeks. Choosing wardrobe is always an important part of the process and we had a vision! The location is also hugely significant. When you're shooting outdoors, you need somewhere pretty – and secluded enough not to be awkward. So we got everything together and finally settled on a good spot.
I start checking the weather for these outdoor sessions about 10 days in advance. Maybe that's my own mistake? Because Florida is finicky as heck! When I first started watching the forecast, it promised us a stormy weekend (bad news for my other clients that weekend, too). Then a few days out, things looked a lot more clear, and we rejoiced!
Then, on the day of the shoot, the forecast changed. It started showing thunderstorms, which is a big no-go obviously. Jacksonville got dark and windy. We watched the radar obsessively – it looked as if Flagler might be spared the pummelling that Jacksonville was experiencing. This area is over an hours' drive for us both, so it was a BIG risk, but we took it.
I took one photo as I was leaving town, and another when we arrived on location: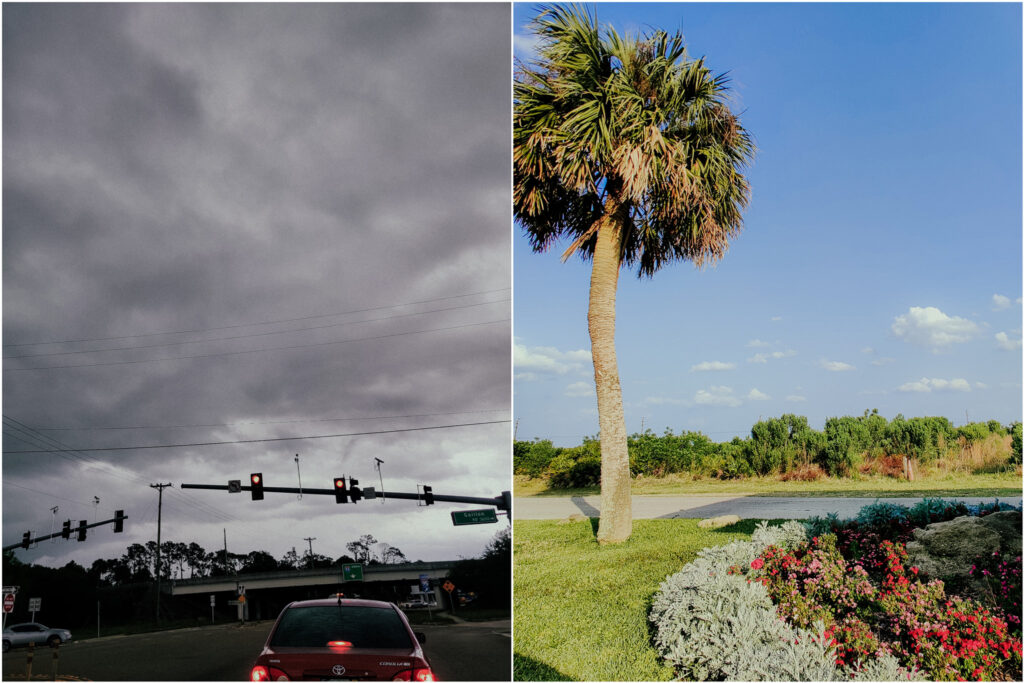 So, yeah. Like I said. Florida, we need to have a chat.
SO thrilled that we decided to take the chance and drive an hour away from home for this! The park is full of greenery, which gives a lot of shade. Between that and the few lingering clouds we had near the sun, we ended up with some gorgeous, flattering light and not too much heat.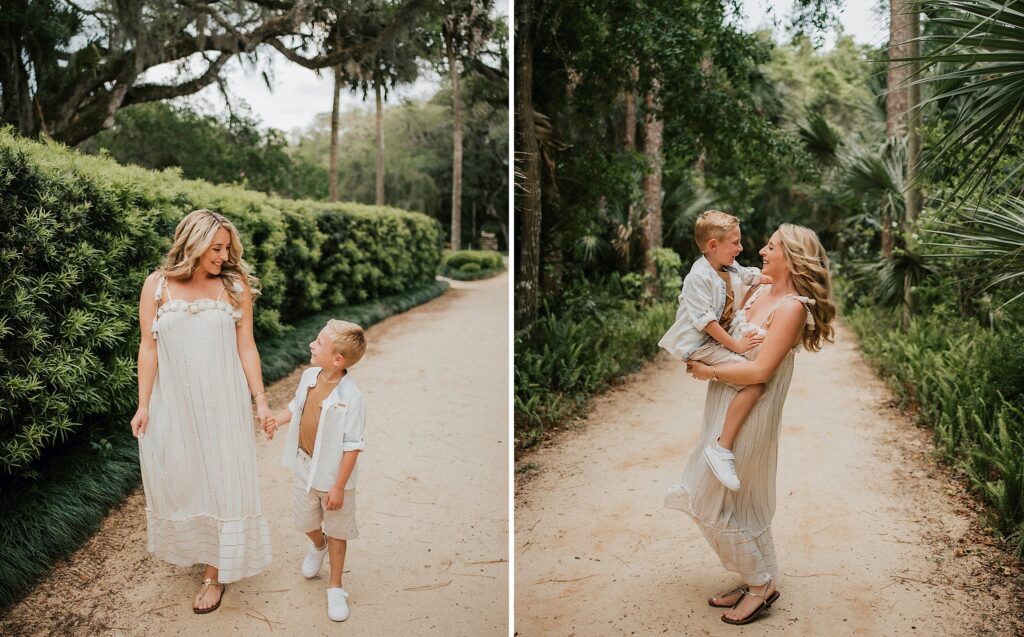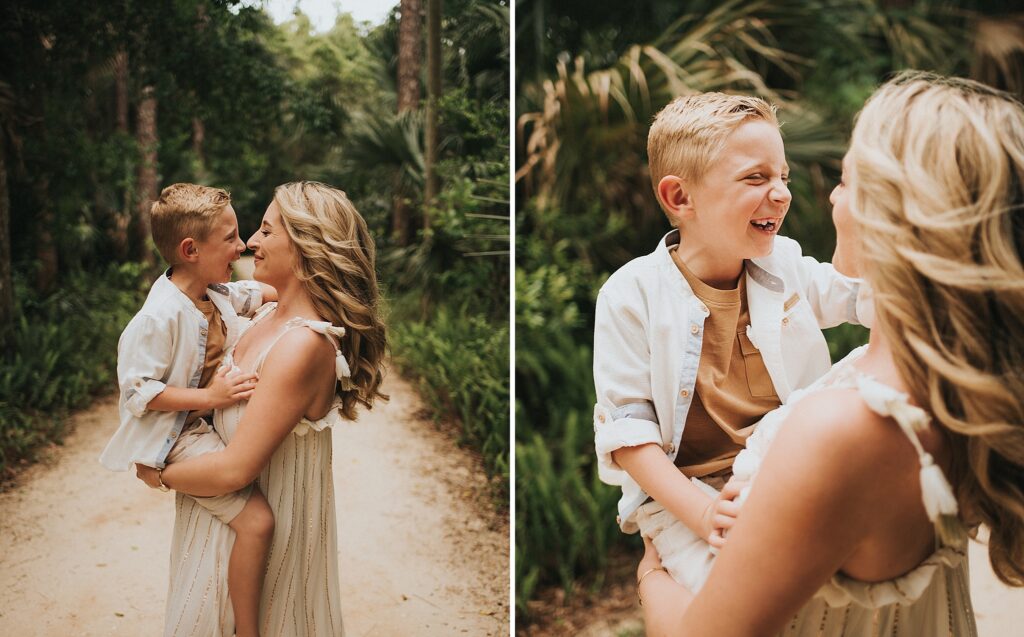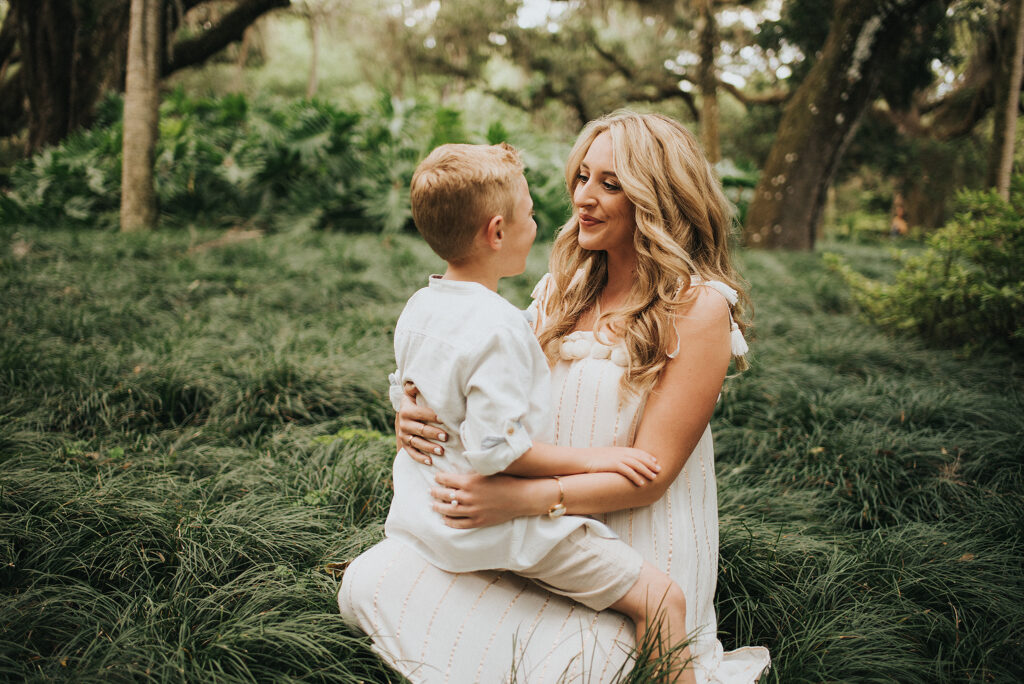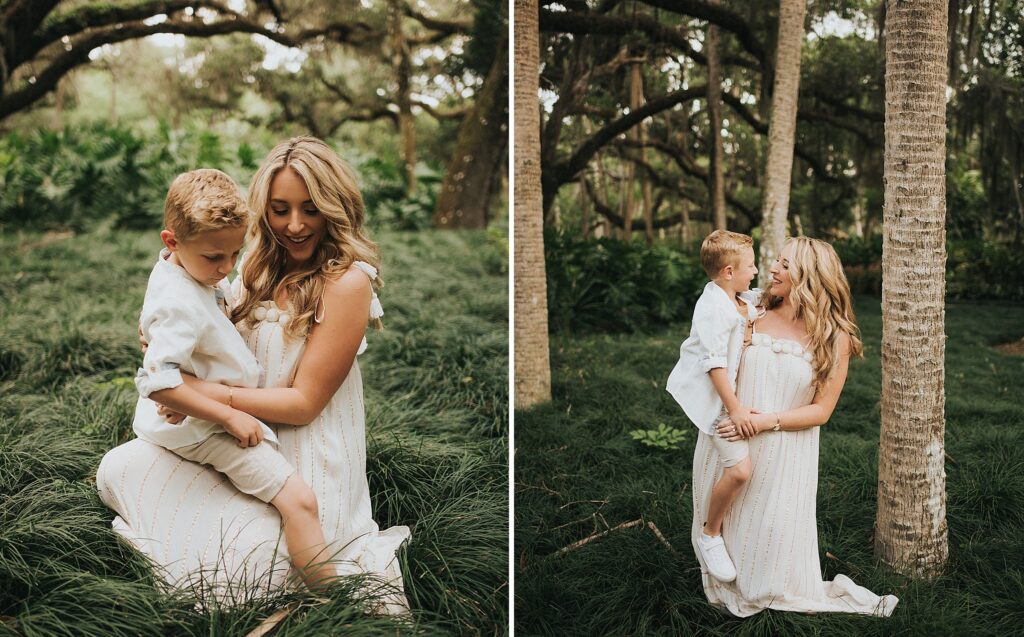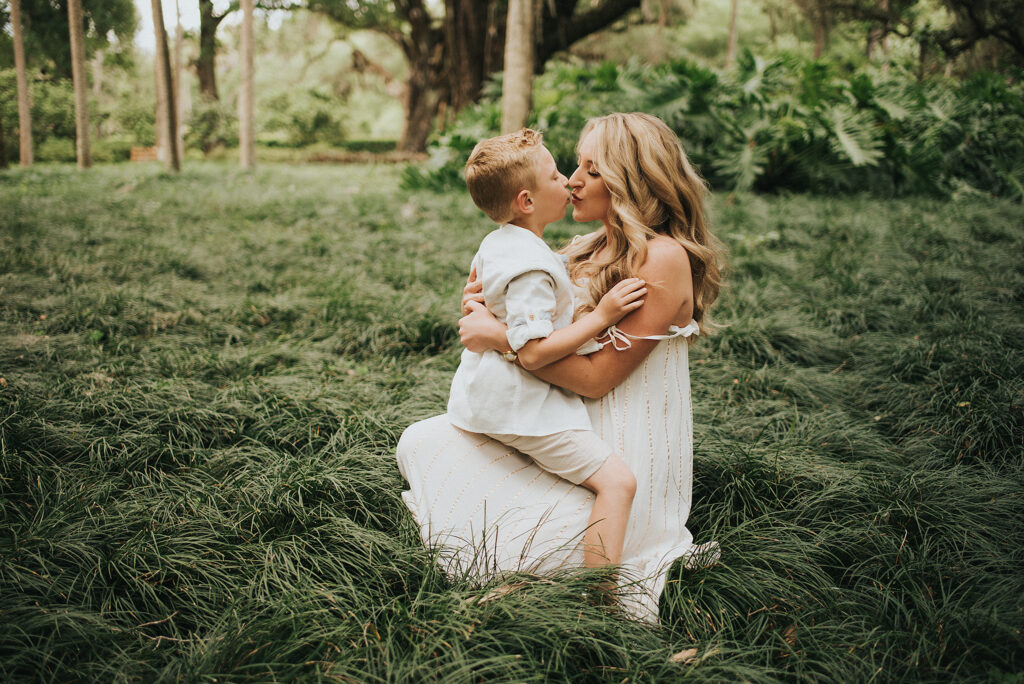 You can just tell that P and his momma have such a great chemistry – their love for one another jumps out of the photo.
We spent some time walking the park, enjoying the very best that Florida spring had to offer. It's been a while since I'd been down there, and it wasn't blooming nearly as much back then! It was really such a magical thing to see. P, of course, was MUCH more interested in the variety of cool rocks he could collect. Since it was a State Park and you're not allowed to remove anything from a State Park legally, he DEFINITELY didn't sneak a pebble into his pocket to take home.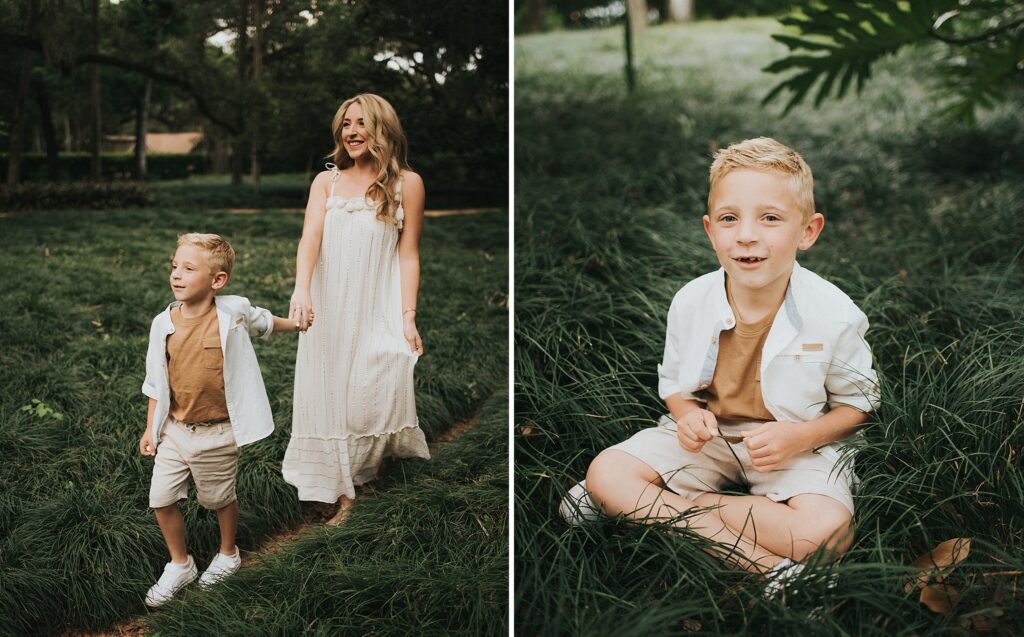 After the park, we decided to hop down the road a bit and see how the beach was looking. The weather was still partly cloudy, and the sun was getting ready to sink below the trees.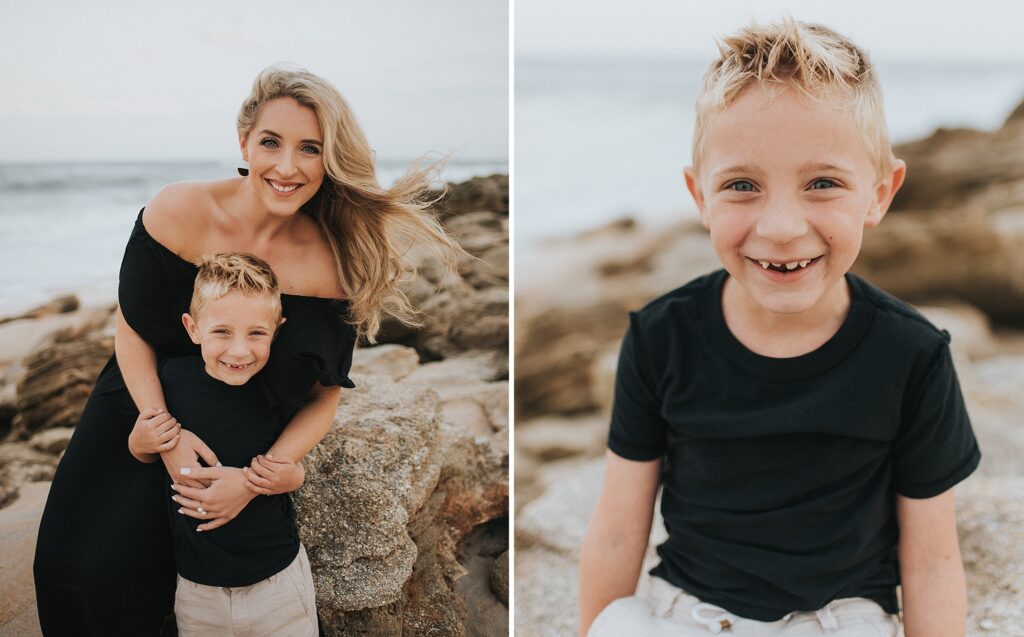 The wind was WHIPPING us around out there! With the waves crashing and the sun sinking, it was very striking! We all had to take a moment to enjoy the scenery. Seriously, my job takes me to the best places. I feel like I'm just surrounded by beauty, always. These rock formations are not super common for Florida beaches, so P had a lot of fun climbing around as we did our best to keep him out of the ocean.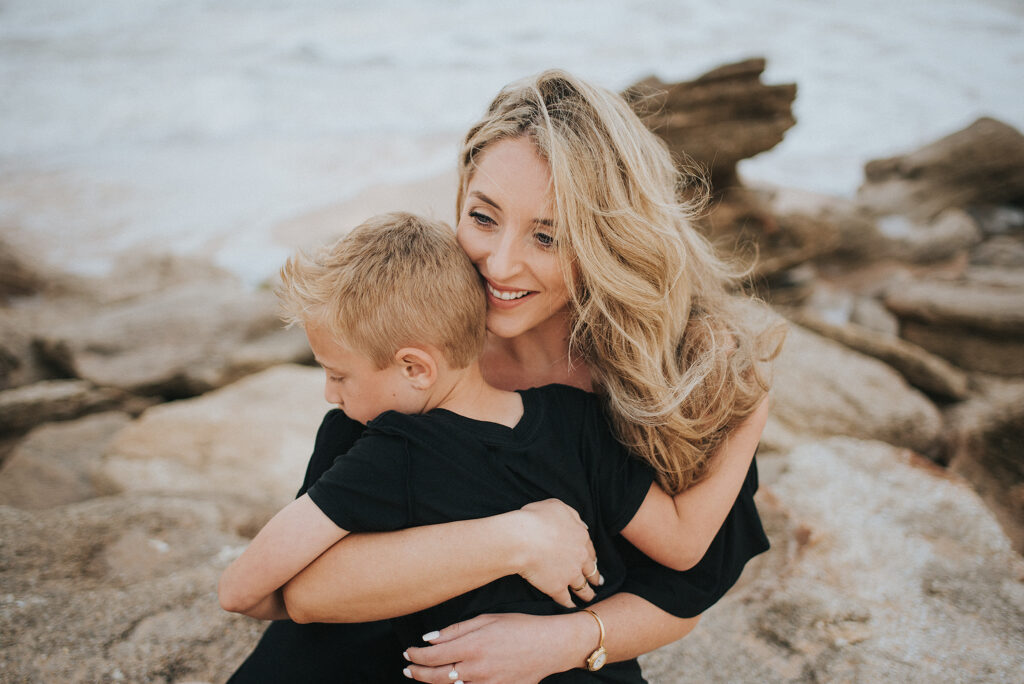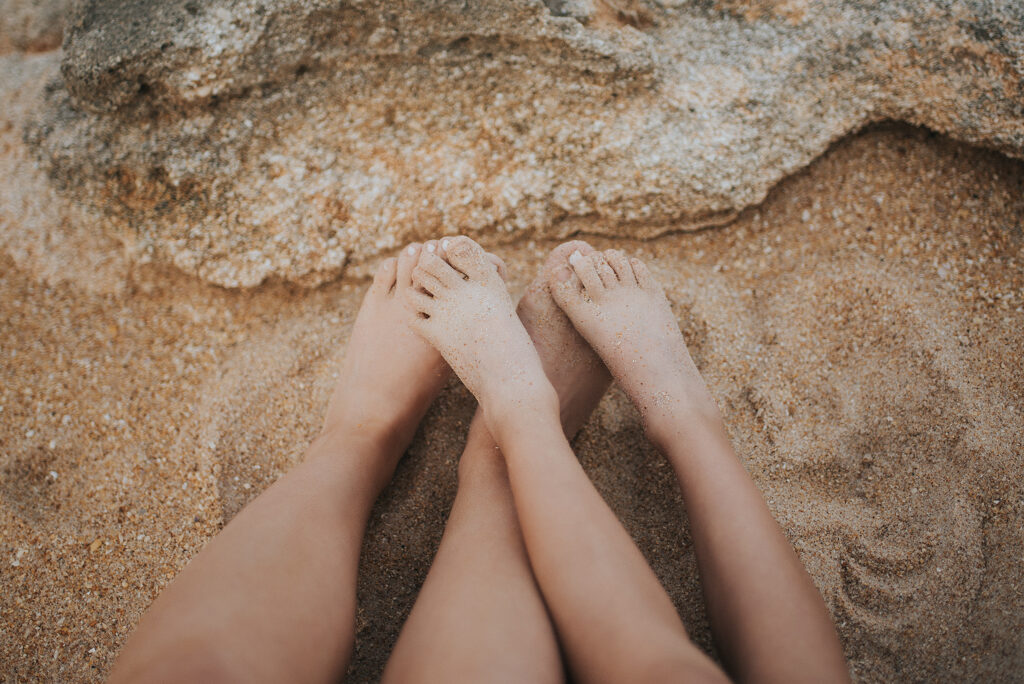 HOW CUTE are their little toes in the sand? Ha!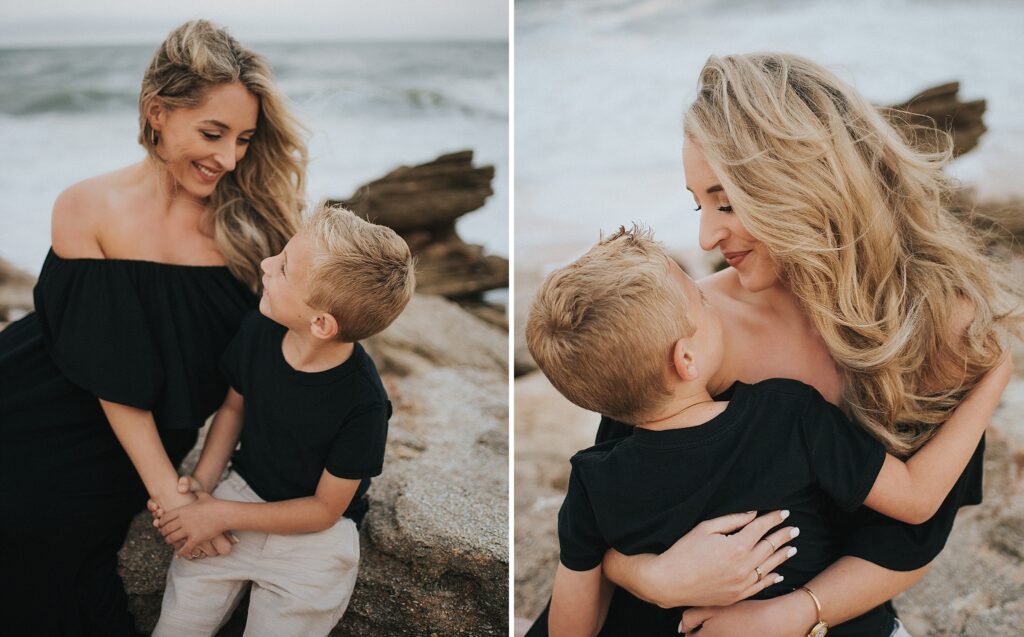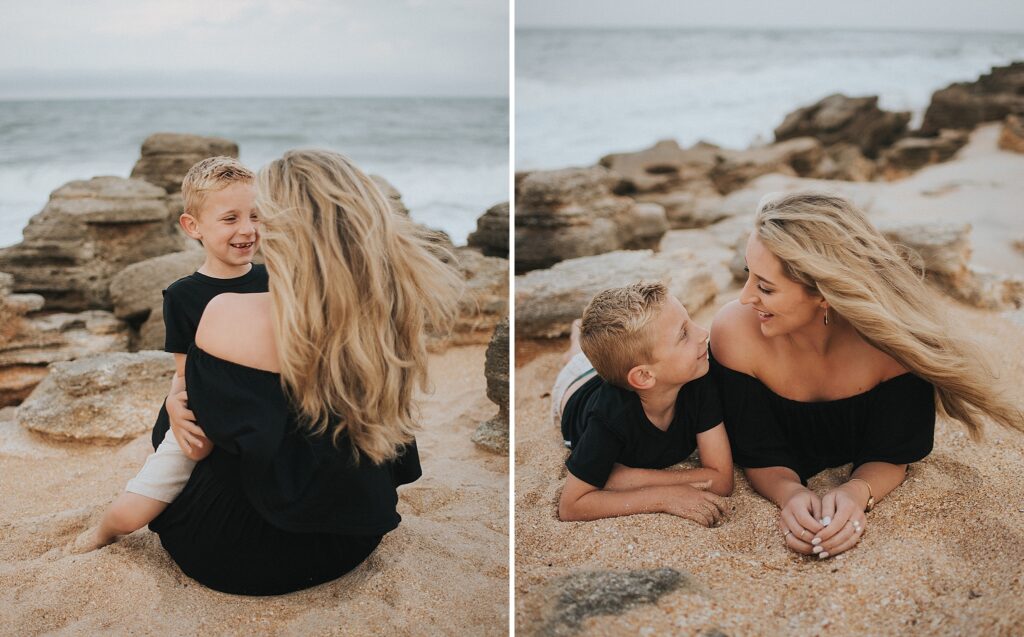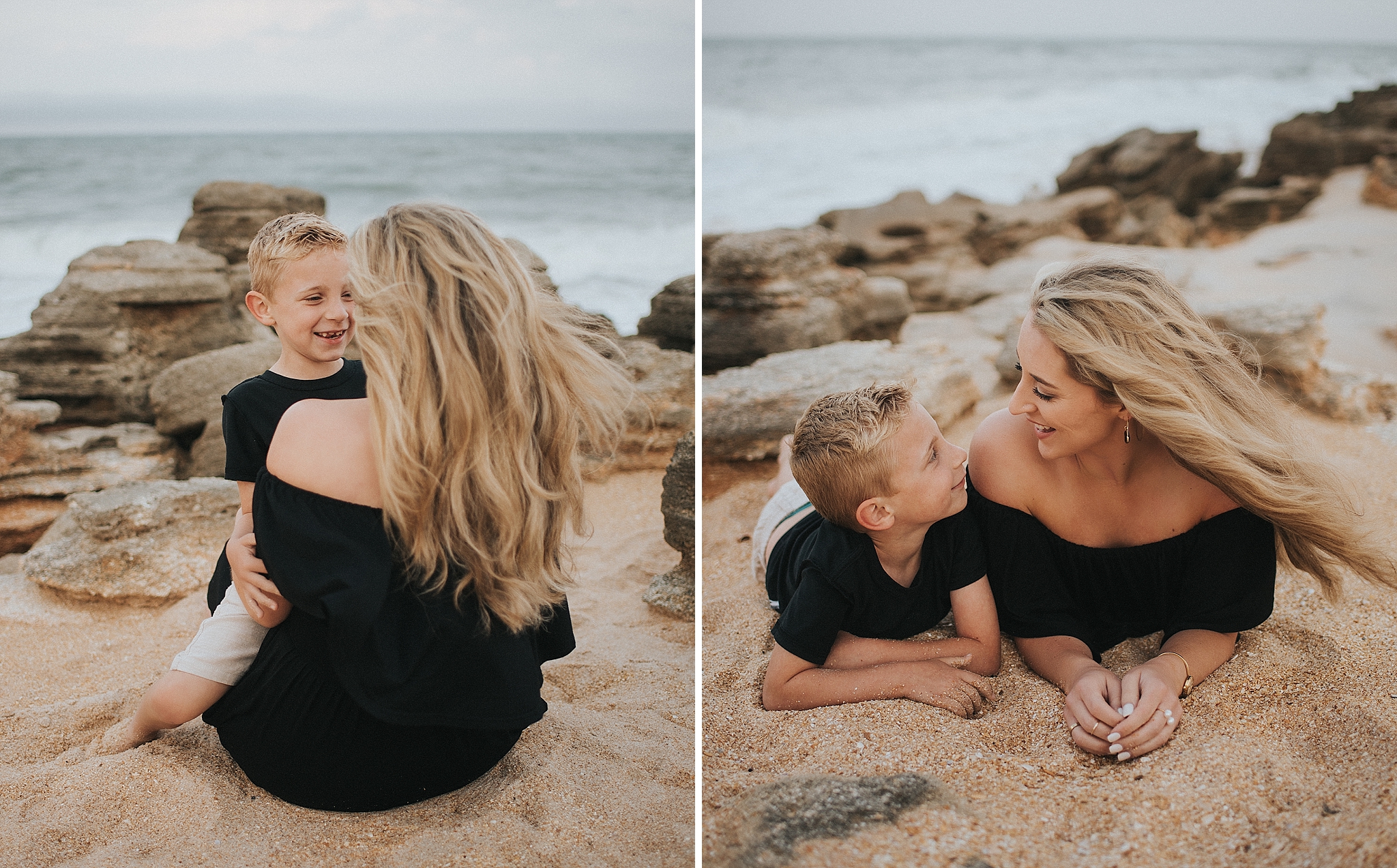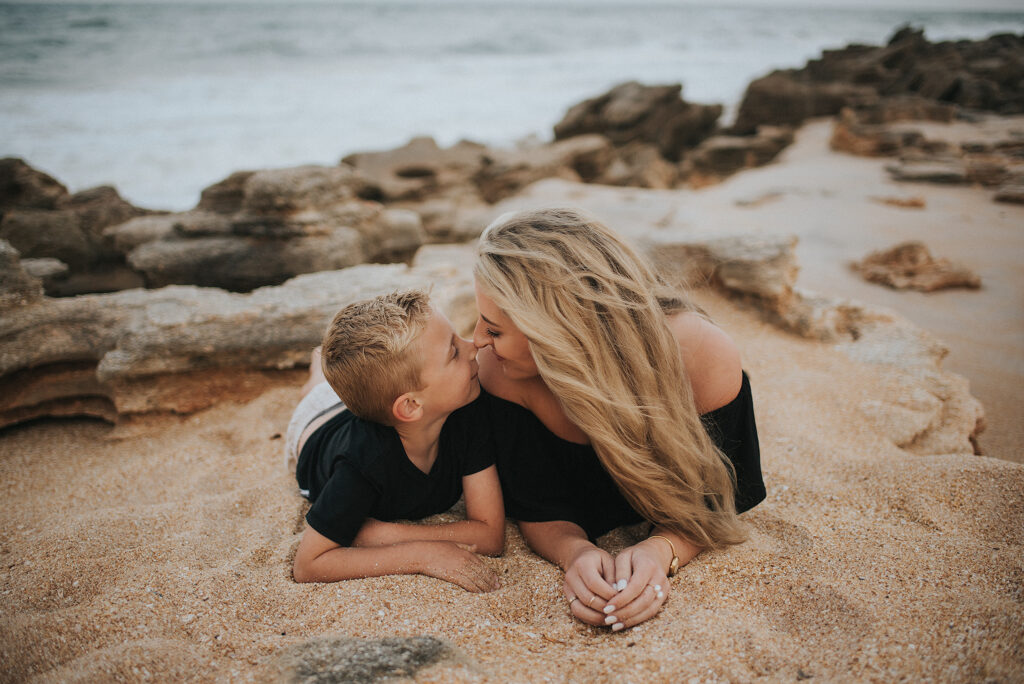 McCall's awesome mermaid hair really held up against the stiff ocean breeze. Between that and her dramatic, flowing dress, we had a lot of fun, and I had to get a few photos of her just being beautiful and majestic.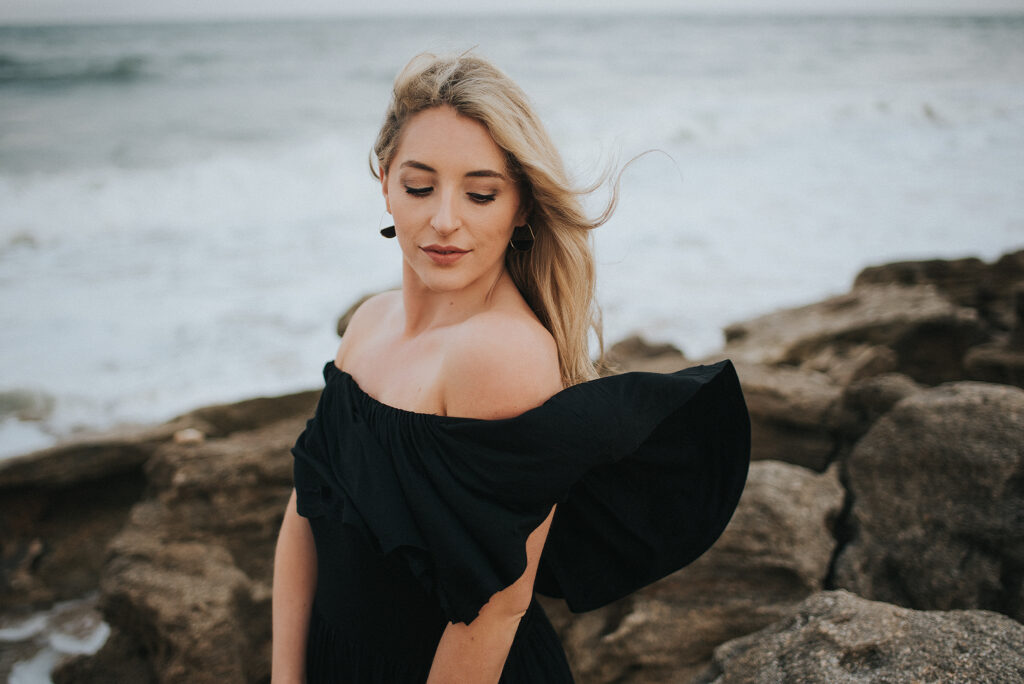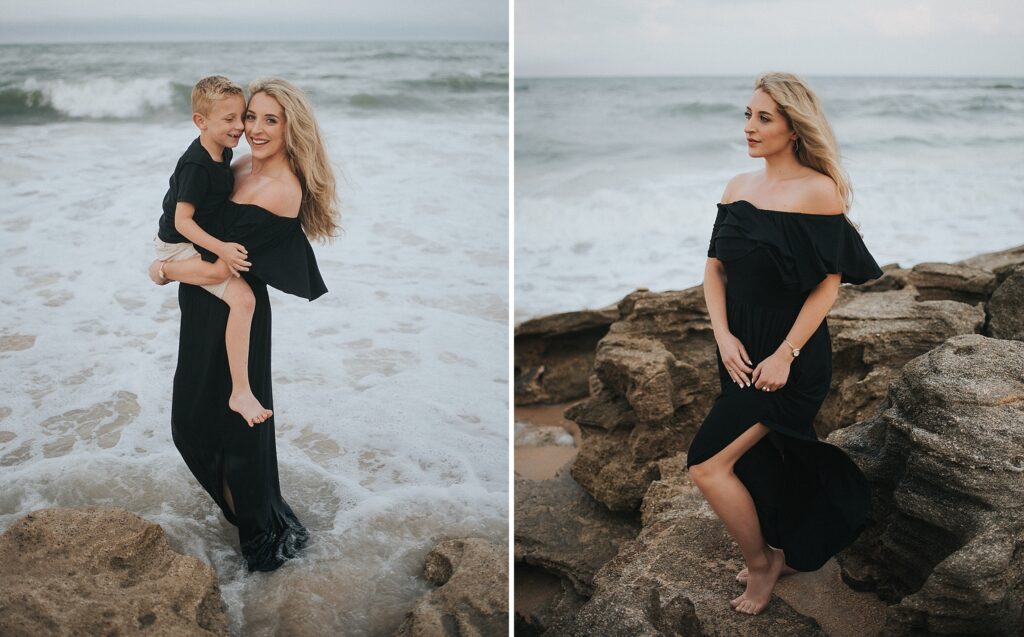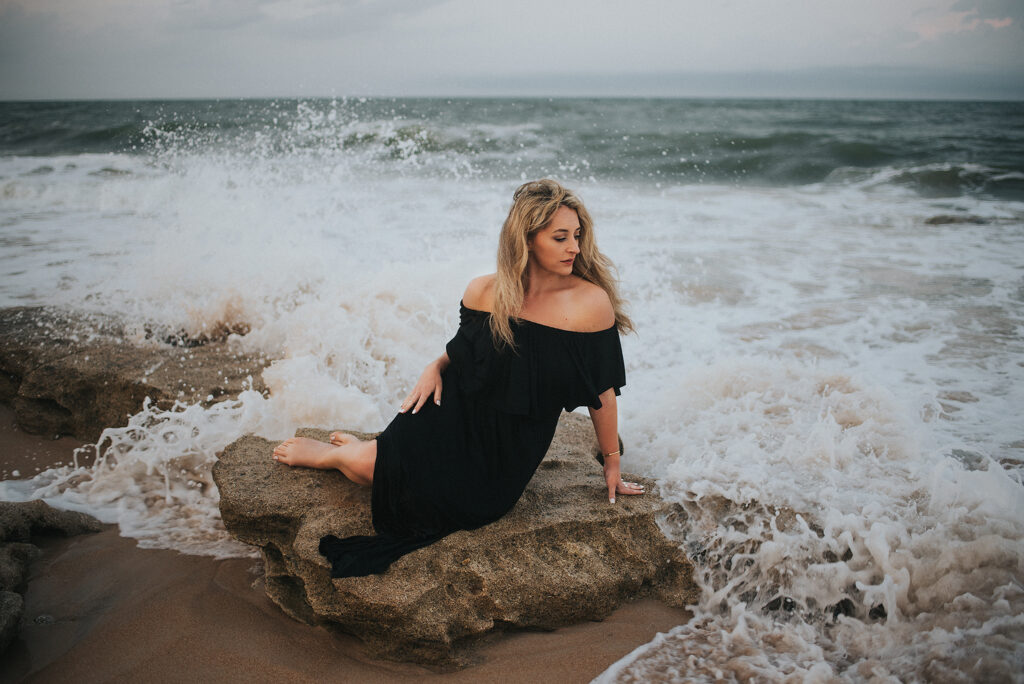 This last one – DIOS MIO. Speechless. THESE photos are what McCall's grandchildren and great grandchildren will look at one day with abject wonder. Mommas, celebrate yourselves, seriously!
We were almost out of light, so we snuck in a few more.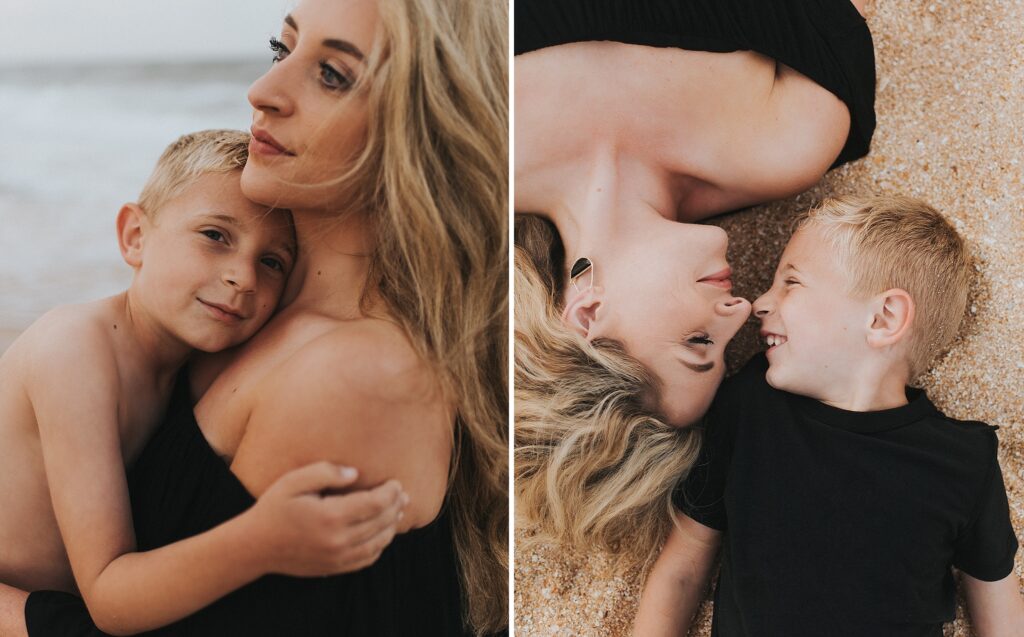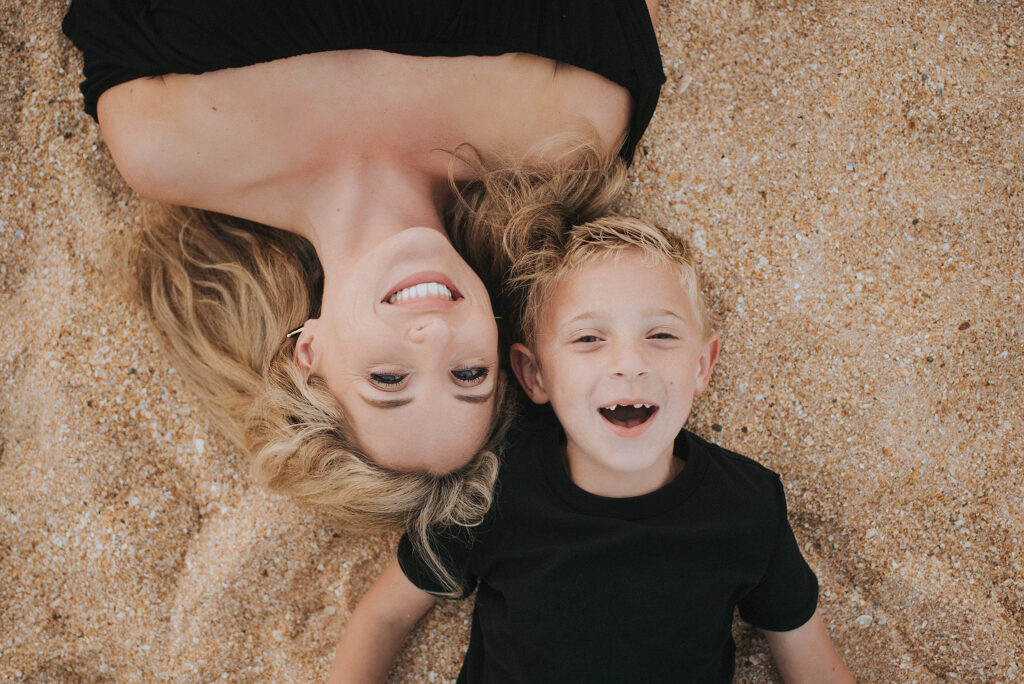 I always like to say thanks to my clients for giving me the gift of photographing them. In this case, I feel like P was really a rockstar and deserves special mention. He held it together for about 90 minutes of shooting time – and was still laughing and playing as we got into our cars and parted ways. What a kid!
If you're looking for updated family photos, or even if it's your first time – let's talk! Reach out here.